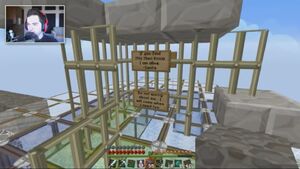 Ianite's Prison
is a structure resembling a prison that was broken out of by
Ianite
. She was was trapped in by
Dianite
, so that she wouldn't foil her brother's plans. It was located by
Jordan
, he was able to find the prison using the coordinates found in a book titled "
DO NOT READ
" which
Mianite
had given to
Jordan
.
Tucker
and
Sonja
were rummaging around in
Jordan's
chests one day and found the book and the
armor
that
Ianite
had given
Jordan
. The two Mianitees went to the coordinates, and to their disappointment, found nothing but a message from
Jordan's
goddess.
Ad blocker interference detected!
Wikia is a free-to-use site that makes money from advertising. We have a modified experience for viewers using ad blockers

Wikia is not accessible if you've made further modifications. Remove the custom ad blocker rule(s) and the page will load as expected.