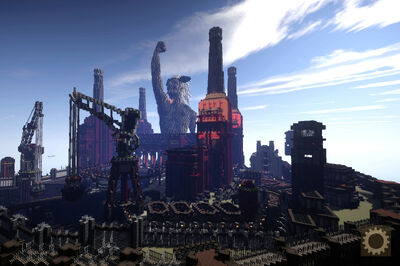 The Inertia was thought to be a top-secret, high security prison where Andor was taken after professing his worship of Ianite. Later, It was revealed to be an old factory belonging to Lord Mianite, in the city in which he lived and lies in state. It is said to be highly guarded, and protected by the Lords of the Furnace. Up until The Inertia Prison Break, it was shadowed largely in mystery, with the only info known for sure is from Steve, and Spirit Dianite.
The Invasion 
Edit
The location of the Inertia was found in Episode 47 of Season Two. In this episode, Jordan, Tom, Sonja, Waglington, and Martha went to Inertia via the Flyanite (Jordan's R.V.), in order to free Andor and Steve. They initially planned to dress in disguise as cargo merchants to deliver a large supply of iron towards Inertia. On entry, their items were stripped from them and through panic, they continued cautiously with little to fight with. Luckily, Steve laid a path of apples to where he was being held. The heroes, distracting the guards, now had a successful chance of saving Steve. 
Through many puzzles and obstacles, the heroes finally rescued Steve and gained adequate armor to defend themselves. Afterwards, Steve and the group set out to rescue Andor.
Farmer Steve's Stand 
Edit
Through the intensive travel along the entire facility of Inertia, Steve soon fought face to face with Lieutenant Al, who in which he gave a devastating defeat towards with his sword. Lieutenant Al, however, was still alive and barely escaped with his life before Steve and the group moved along. 
The Escape 
Edit
In the end, the heroes soon reached Andor and freed him, yet, during their escape, the heroes were stopped by King Helgrind, who surprisingly allowed their escape. With haste, the heroes battled their way through the guards, slaying many and finding any way to reach back to the Flyanite. Finally, the heroes soon reached their transport and were brought back home by Jordan.
This was the instance which caused Guard Tom to lose his job.
Item Retrieval
Edit
The following day Jordan, Tucker, Sonja, Wag, Martha and Andor returned to the Inertia to retrieve their confiscated items. While there, they found Helgrind in Andor's old cell. Waglington then used a spell that sent Helgrind to the top of the Nether (In response to a dare by Sonja). Helgrind then chose to exile himself to the Nether because he feared that if he returned Mianite would kill him.
In the end, the group managed to successfully retrieve all of their items and safely return home.