The Diamond Hoe is a strip club establishment owned by Jordan , Sonja, and Tucker. It is located in Tucker and Sonja's Base.
It got a 8.5/10 from
Tom
saying :
Nice Cocktails Rought Strippers Feeling Buthurt
, and a 10/10 from
Champwan
saying :
Was fabulous, but the sex was quick :P
but he later changes it to 7/10 saying :
the guy is a female and i didn't get food .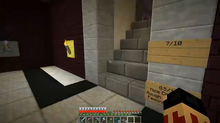 Ad blocker interference detected!
Wikia is a free-to-use site that makes money from advertising. We have a modified experience for viewers using ad blockers

Wikia is not accessible if you've made further modifications. Remove the custom ad blocker rule(s) and the page will load as expected.