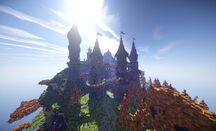 The Temple of Ianite
is a temple located in the End. It was built by Hyperion and was the setting of the Season One Finale of Mianite. In the final minutes of
Season One
, the soon-to-known-as
Sky People
stood at the edge of the end near the temple.
In episode two of "Mianite Aftermath," the TheTwistedGuy travels to the temple and meets with Skipper Redbeard and Lady Ianite. After TheTwistedGuy gives his OP powers to Lady Ianite, she attempts to move the temple back to its rightful place in the overworld. However, she is unable to do so and the temple is taken somewhere in the void. Fearing what might happen if they stay, Lady Ianite, Skipper Redbeard, and TheTwistedGuy leap off the edge, much like the heroes did at the end of Season 1, leaving it stranded in the void.
A cinematic of the Temple can be found here :
☀https://www.youtube.com/watch?v=YLz_V9yF7M8
Inhabitants
Edit
Ad blocker interference detected!
Wikia is a free-to-use site that makes money from advertising. We have a modified experience for viewers using ad blockers

Wikia is not accessible if you've made further modifications. Remove the custom ad blocker rule(s) and the page will load as expected.